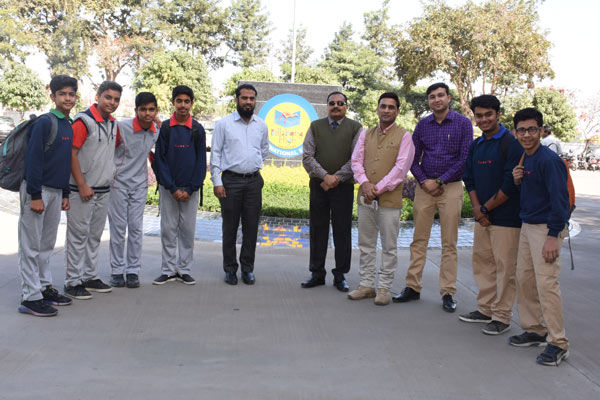 Guest Lecture on Cyber Security
Speakers - Mr. Yogesh Pandit, Director of Techilaw and Mr. Shailendra Singh Chauhan – SP, Cyber Crime Unit, MP Police
" The internet is the first thing that humanity has built that humanity does not understand, the largest experiment in anarchy that we have ever had." - Eric Schmidt
School's IT Department organised a Guest lecture for children to give them a clear insight into the Cyber World and the perils associated with it. Young students use the internet indiscriminately for their education and entertainment but are oblivious to the dangers and cyber-criminals lurking in the by lanes of the Worldwide Web.
Eminent specialists in the field, Mr. Yogesh Pandit, Director of Techilaw and Mr. Shailendra Singh Chauhan – SP, Cyber Crime Unit, MP Police spoke to the children of malicious practices such as phishing, phone-phishing diversion theft, baiting and tail-gaiting. Children were also apprised of the types of latest cyber-crimes such as ATM card cloning and shoulder-surfing.
They were given valuable guidance on how to keep themselves safe from fraudsters stalking gullible internet users for a safe cyber experience.
---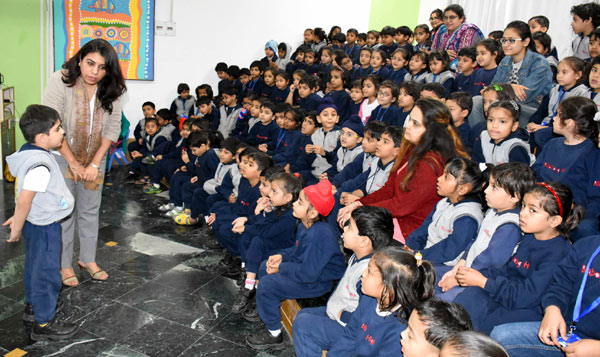 Guest Lecture- Architect cum Interior Decorator
Guest Lecture : In accordance with the theme of the month 'Professions', an Architect cum Interior Decorator interacted with the children and made them understand the job of an architect, an interior designer and a sculptor. She also took them to a trip to Seven Wonders and made them understand the difference between Monuments and Modern Structure. Several videos regarding modern buildings around the world were also shown to the students.
---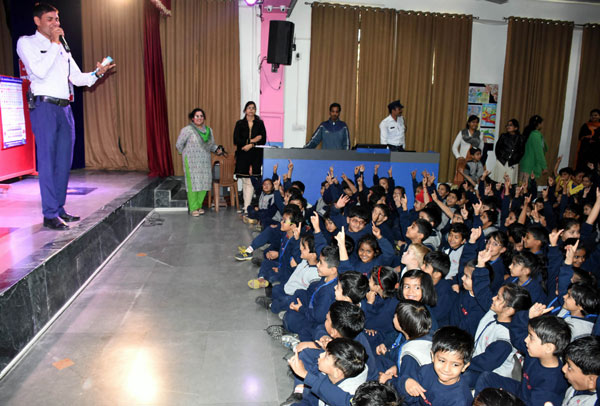 Following traffic rules is paramount to being safe
In accordance with the theme of the month, 'Professions', a guest lecture by Traffic Police was organisedin school today. The traffic policemen described the profile of their job and explained the traffic rules in great detail. They advised children to use zebra crossing while moving across the road, wear seat belts and helmets while driving four wheelers and two wheelers respectively, maintain speedwithin prescribed limits and not to talk on mobile or use headphones while driving. Different videos were shown to make the traffic rules more clear and apparent to children.
---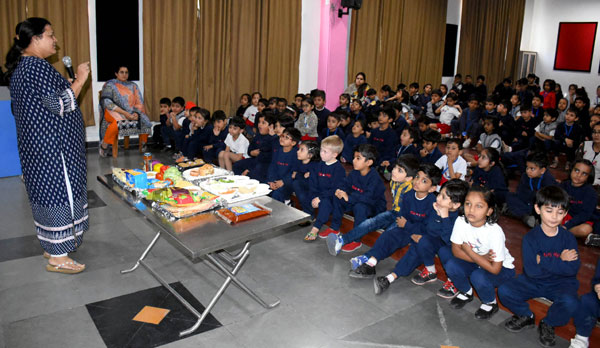 Sr.KG - Guest Lecture : Visit by a Chef
Tasty pizzas, delicious pastas yummy noodles and cheese, so very irresistible!!
Sr.KG students loved exploring cuisines, sauces and vegetables of different countries around the world along with the Chef, Ms. Kiran Agarwal.
She apprised them with various ingredients that are a part of dishes like pasta, pizza, noodles, cakes and cookies. Children saw various mouth watering cuisines like nachos, tortillas and tacos of Mexico. They also discussed about French fries of USA, kiwi fruit of Australia and bakery products of France. Amidst these food talks all the children took a flight in the world of imagination that was ruled by aroma, various food items and yummy bites. Overall this lecture was a great sensorial experience for children.
---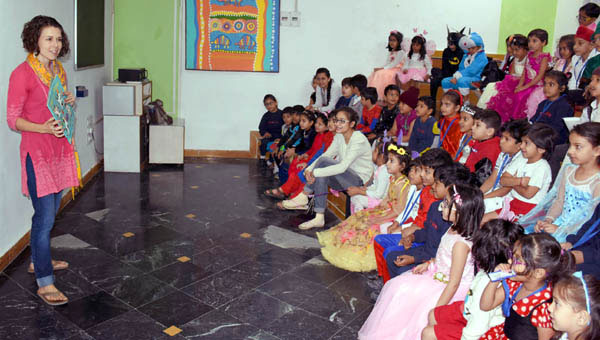 Guest Lecture - Sr.KG - Fairy Tale Day
Sr. KG students had a wonderful and mesmerising story session with our special guest Mrs Danielle Eggleton. She made the session very interactive with beautiful facial expressions and voice modulation. Children loved making sounds of farm animals in a musical way, listened to the story of three little pigs completely engrossed and the poem '10 On the bed- Roll Over' at the end of the session kids experienced raptures. Children learnt three very important lessons from the interaction – first 'Reading books is fun', second 'even though we are small, we can do big things' and third 'we should act with patience and not in a hurry'.
---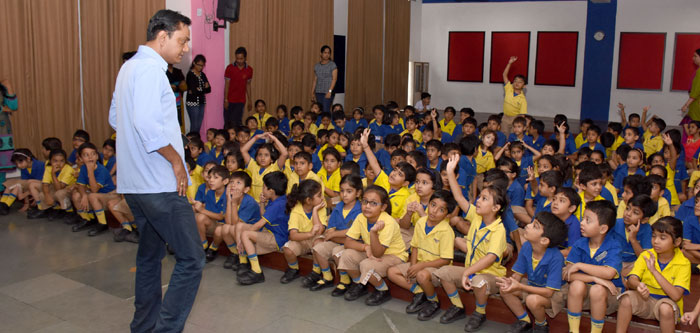 Billabong is a land where knowledge and fun go hand in hand.
The Global Positioning system (GPS) is a space based satellite navigation system that provides location and time information in all weather conditions, anywhere on or near the earth.
Grade 1 experienced first-hand the numerous advantages of having GPS in the form of a guest lecture given by Mr. Anand Dube and Mr.Suraj from Synques. Children were given exposure to GPS mobile software through live-streaming of bus tracking system, employed by the school.
Grade: 1
Subject: EVS
Unit : History of Travel
---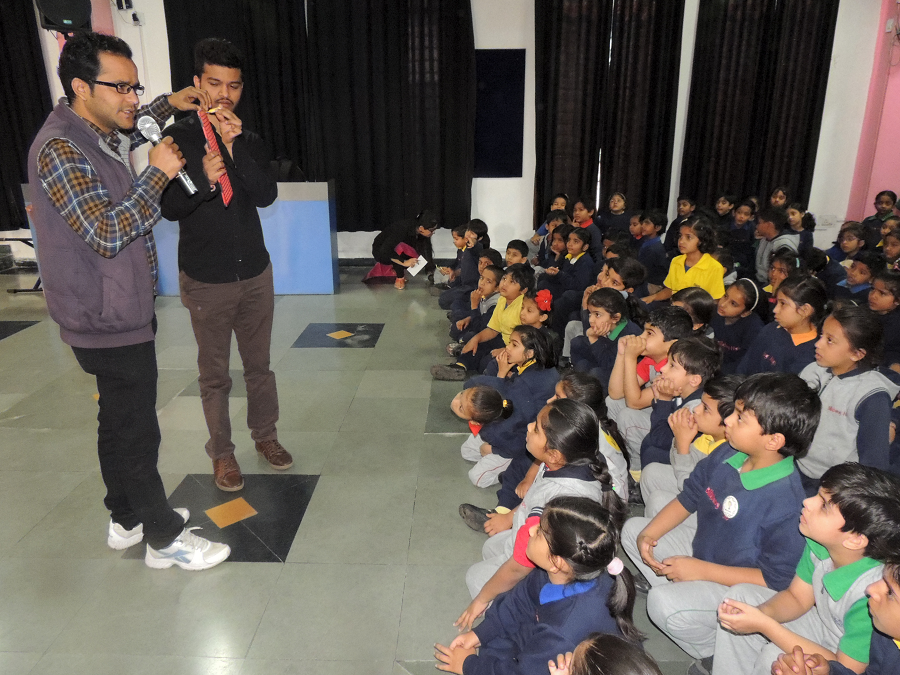 Guest lecture on Braille
"Empathy is seeing with the eyes of another, listening with the ears of anotherand feeling with the heart of another." - Alfred Adler
Grade 1 students had first hand experience of the way visually impaired are taught through Braille, in a guest lecture given by personnel from 'Arushi' - an organization for the visually impaired.
---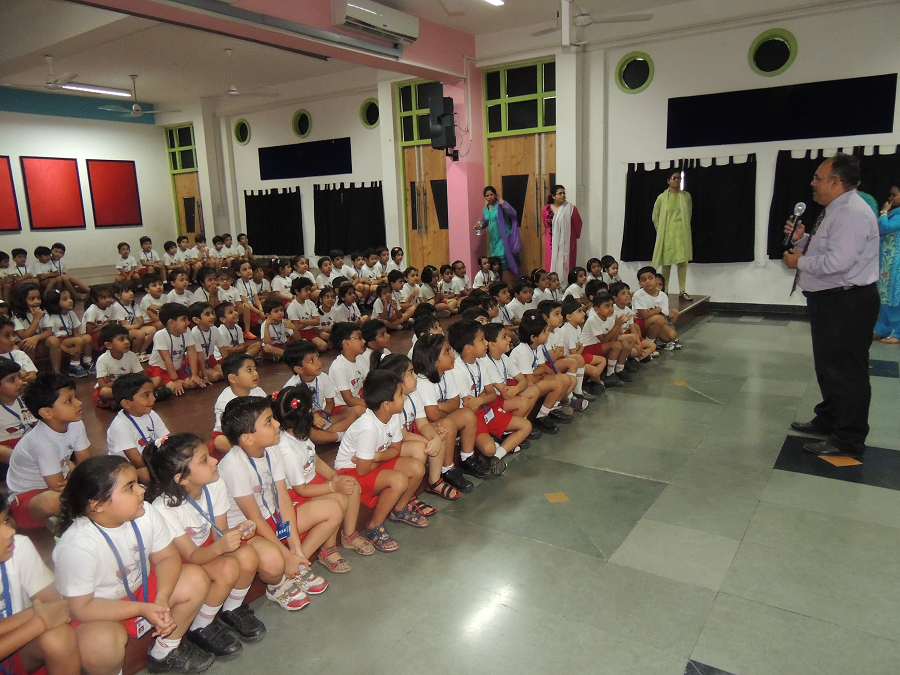 Guest Lecture : Visit by a Travel Agent
Sr.KG students had been learning facts about different countries under the theme 'Around the World'. A lecture by a Travel Agent was organized on 7th August 2015 who apprised the students with his job, how he helps people plan their holidays, provides them with the travel brochures, advices them on different destinations, arrangement of transportation, hotel accommodation, car rentals etc. He also informed students about various documents like visas and passport that are required for foreign travel.
---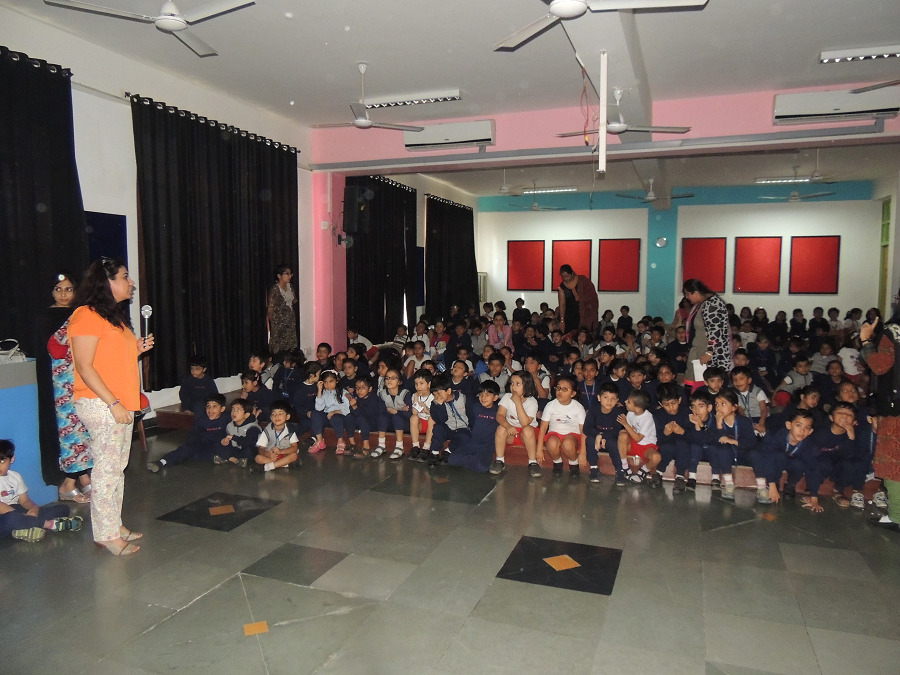 Guest Lecture : Visit by an Architect
Sr. KG students have learnt about different professions and to explain the job of an architect and interior decorator a guest lecture was organized on 30th November 2015. The architect explained how she plans and designs the buildings as per the client's recommendations, material that is required to do so and how often she needs to visit the site of construction. She gave a comprehensive information on how each room is planned while making of a house. She elucidated the whole concept through power point presentation which helped children understand the intricacies involved in the job of an architect and interior decorator.
---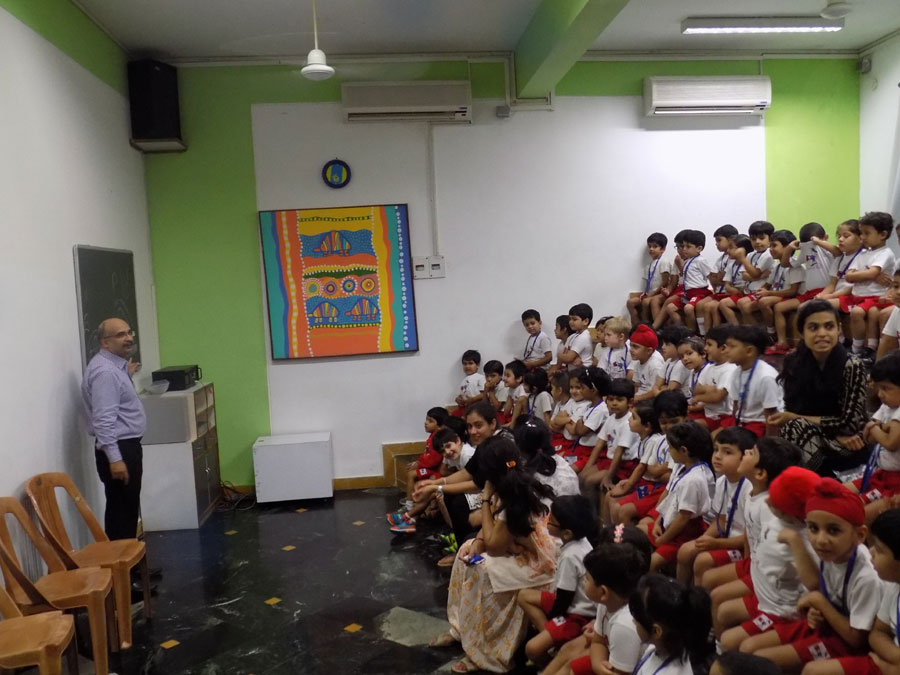 Guest Lecture : Visit by a Doctor
Pediatrician, Cardiologist, ENT specialist, Dentist ….. Well these are the people who play a very important role in our society as they are into the professions related with the body. To explain the profile of their work to Junior KG children, a doctor was invited to the school on Monday, 3rd August 2015.
Discussion on various sense organs, especially the fifth category of sense of taste – 'Umami' ignited the curiosity in little ones and the twinkling eyes rolled around for more information. The 'in debating' issue about 'Maggie' was talked about, though the acceptance of 'Maggie' not good for health was nodded by all yet their hearts did not want agree.
---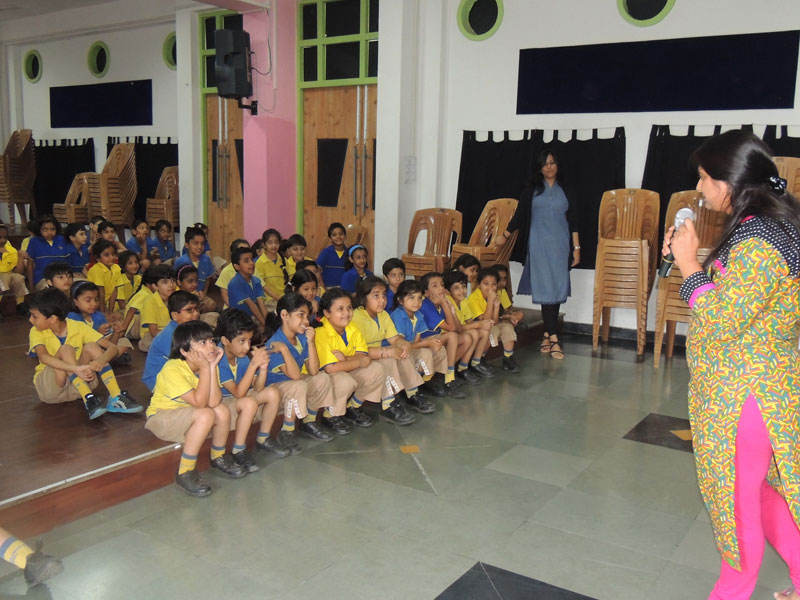 Counseling Session: "Overcoming Fears"
Fear is a universal emotion and everyone experiences fears sometime during their lives, especially during the vulnerable period of childhood. Therefore it is the best time to help children realize their fears and provide them tools to overcome them.
On 17th July,2015 Children of grade 2 at Billabong High attended a counseling session on "Overcoming Fears" by Ms. Khushi Singh, our school counselor. During the session Ms. Singh helped the children vocalize their fears so that they can recognise and realize them. Equipping the children with necessary skills to help overcome their fears in future. The session also helped children identify themselves with 'Plop' the baby barn owl from their Literature reader 'The Owl Who Was Afraid of the Dark' and relate how Plop was able to overcome his fear.
---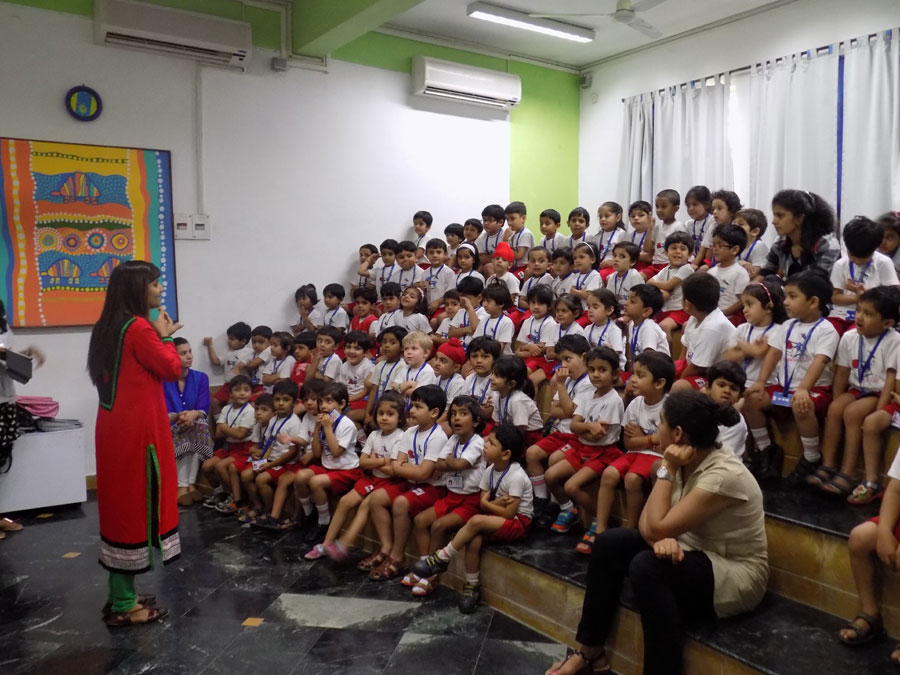 Yummy for tongue:troubling for tummy
Guest Lecture : Visit by a nutritionist
It is often said that a healthy mind resides in a healthy body. To have a healthy body it is imperative to understand the importance of consuming a nutritious diet and the need for exercise.
To help Junior KG students comprehend the whole concept of food pyramid and balanced diet, a nutritionist was invited to the school on 31st July 2015 where the little ones were warned about the harmful effects of junk food. The children were also advised against eating such food frequently despite it appearing very tasty and delicious.
---
Horticulturist visits Preschool
Sr.KG students are learning about the importance of plants and trees in our lives under the theme of the month 'Save Our Planet'. A horticulturist visited the school on Tuesday, 27th January 2015 to provide the children with some extended learning.
He apprised them with the process of planting a sapling in a pot and taking care of the plant. The usage and importance of manure was also discussed.
---
Pre School Guest Lecture – Traffic Police
Is it not ironical that we are obsessed with screen guards on our smart phones even though most come with scratch proof Gorilla Glass, but on the other hand, we never bother wearing a helmet while riding our bikes.
With the dismal conditions of Indian roads and rising road accidents it is never too early to learn the value of Road Safety directly from professionals who spend their time and energy in making our roads safer – The Traffic Police. Officials from the Local Traffic Department visited the School on Friday, 12th December 2014 and apprised Sr. KG students of the vital role they play in keeping the people on the roads safe.
They informed students how they manage traffic on roads and how important it is for everyone to follow traffic rules such as wearing helmets while driving two wheelers and seat belts while driving four wheelers – rules that have been made to keep people safe in the event of a mishap.
The children pledged to impress upon their parents not to talk on phones while driving – a menace growing rapidly and almost doubling the rate of accidents in recent years despite several laws being brought to tackle the menace. The traffic police emphasized greatly on keeping hands inside in moving buses and cars as it is one of the leading causes of loss of limbs amongst travelers. These little ones also received their first lessons on crossing roads safely and will soon be putting to practice all they learnt that day with the promise of becoming law-abiding citizens of our country.
---
Rendezvous with the celestial
Guest Lecture by Mr. Nishank Srivastava
ICSE Schools bhopalThe School in its effort to stoke the spirit of enquiry among its Middle and High School students organized a lecture by Mr. Nishank Srivastava, a Senior Scientist from Vikram Sarabhai Space Centre (VSSC), Indian Space Research Organization (ISRO), Trivandrum, who graciously agreed to speak to our students at a very short notice.
The lecture also coincided with World Space Week, the largest public space event on Earth which is celebrated in October every year internationally to recognize the contributions of space science and technology to the betterment of human life.
Mr. Srivastava gave valuable insight into the making and working of space satellites to an eager group of space enthusiasts highlighting the pivotal role satellites play in man's everyday life, from live telecasts on televisions to predicting weather conditions.
An equally enthralled group of teachers attended the lecture delighting in the videos and presentations Mr. Srivastava showed making space technology sound simple and so much fun. He invited the young student community to join the space research programmes and contribute towards preparing India for the next generation of Space Technology.