Kairos - an English Symposium at Sagar Public School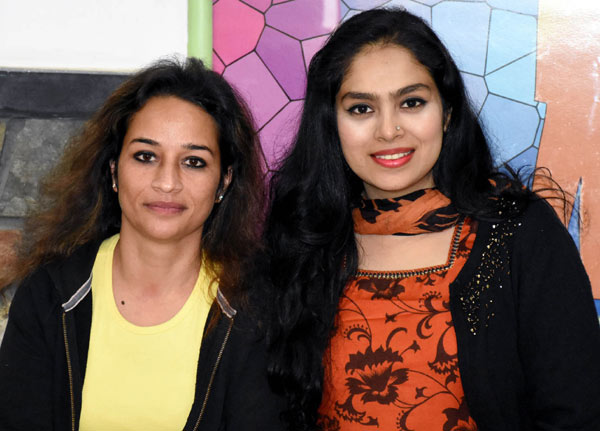 Ms. Deepali Begwani and Ms. Bushra Rizwan, Senior faculty from Middle School attended Kairos - an English Symposium at Sagar Public School, Bhopal on 1st and 2nd December, 2016.
Ms. Jessica Cinco from Arizona University conducted an interactive and engaging session on Communicative Language Teaching (CLT). She spoke in depth about the advantages of CLT and how it emphasizes interaction and problem solving as both the means and the ultimate goal of learning English by laying emphasis on activities such as role play, pair work and group work.
They also attended an illuminating session by Ms. Usha Pandit on Technology in Education where she spoke about the need to harness the strength of technology by integrating it with our curricular goal. Ms. Pandit also had a session on Empowering English. The presentation was aimed at English teachers and included ideas for teaching of grammar, spelling and literature.
The workshop was fruitful and generated a healthy exchange of ideas and sharing of information.
---
EMPOWERING TEACHERS TO FACILITATE LEARNING THROUGH POWERFUL PRINCIPLES OF PEDAGOGY AND PHILOSOPHY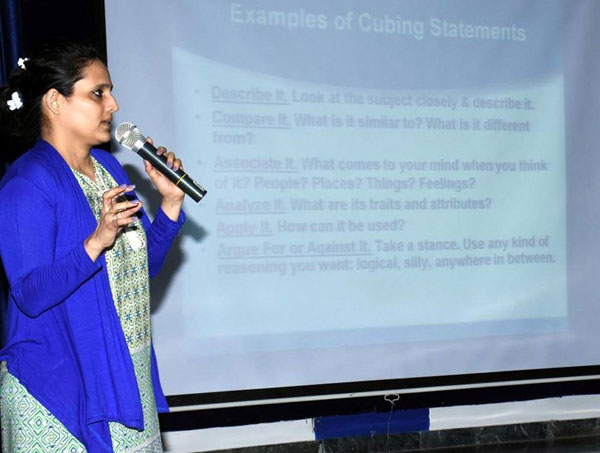 Billabong High Bhopal Teachers workshop
"Training is the essence of transformation, learning enriches it and practice nurtures it forever."
Billabong High, Bhopal conducted a 2 days "Teacher's empowerment workshop" on being more creative, innovative, energetic and vibrant through new methodology and innovative practices to make every moment in class a joyful, meaningful and an effective learning experience for children.
This workshop witnessed brainstorming on various topics, including 'Modern Trends in education 'which would help our teachers as Facilitators to prepare the children to successfully face the challenges of 21st Century. The aim of this workshop was to develop a consortium of world class teachers capable of applying innovative and effective teaching practices to fulfill the demands generated by dynamic classrooms with their ever growing need of nurturing and developing with a vigorous combination of the emotional, Spiritual, and Intelligence quotient.
KKEL and Billabong learning has been recognized as an institution that produces confident, creative and dedicated teachers and has been the pioneer in imparting teacher training that is at par with the standards followed at international levels.
Kangaroo Kids and Billabong High International School are now on their path to create a larger footprint through the education imparted in the institutions run by them.
---
Workshop on First Aid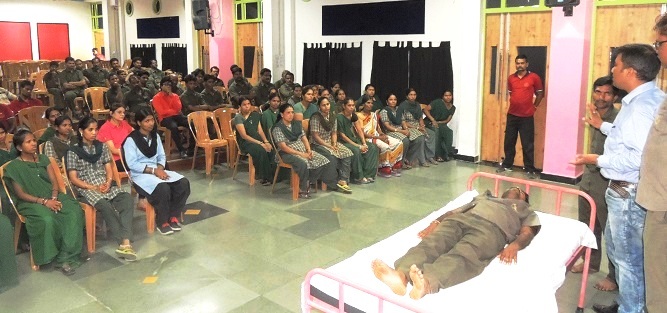 First Aid is one of the most important operations which each one should know as it is the primary life saving action. When applied in the right way it can save one's life. Keeping this in mind a first aid workshop for the ancillary staff was organized in the school on 17th of October.
Dr Sudheer Sharma who is the authorized first aid state instructor, certified from Indian Red Cross Society, and a graduate in emergency medical services, from Symbiosis Pune explained the causes, symptoms, prevention and treatment of various traumas like snake bite, drowning, epilepsy, and heart attack by giving practical demonstration with the help of audio visual support.
---
Workshop On Correction Techniques And Constructive Feedback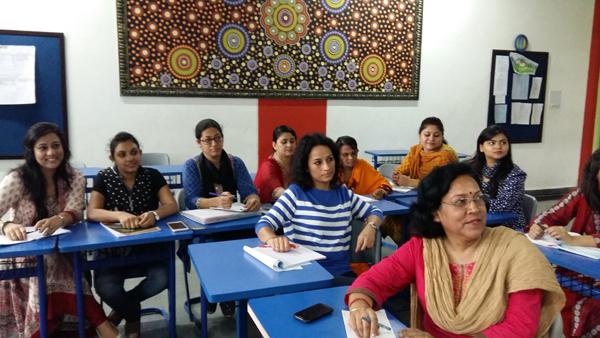 Feedback is the breakfast of champions.
Ken Blanchard
Effective and timely feedback is the most important tool of the learning process. Latest research has proved that feedback when timely and constructive can result in learners performing up to 30% higher than their earlier performance.
A workshop for primary and middle school English teachers discussing correction techniques and giving constructive and effective feedback to students was conducted on Saturday, 25th July 2015.
The focus of the workshop was to provide objective and positive feedback to children which eventually would lead to taking them a step further. This meticulously designed interactive session by Ms Bushra was well received by all facilitators and their enthusiasm reflected in the suggestions given by them.
---
Workshop For Teachers On Building Reading Comprehension Among Students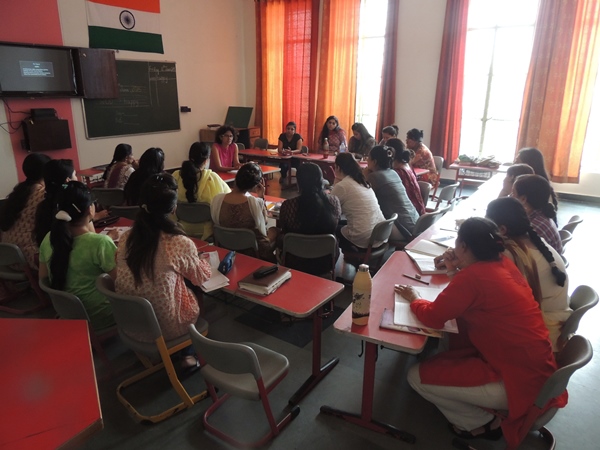 Reading comprehension is a complicated yet the most important part of the learning process for a student.
On 12th June, 2015 primary teachers at Billabong High Bhopal attended workshop on Building Reading Comprehension Among Students, conducted by Ms. Swati Panvalkar.
The focus of the workshop was to help teachers gain various strategies to build and advance reading comprehension skills among students.
Following are some of the key pointers discussed during the workshop for developing effective reading comprehension skills in the classroom :
Helping student reader gain understanding through contextual clues to create meaning.
Building vocabulary
Encourage critical thinking and thoughtful response to the text.
The workshop was a great help to teachers in gaining a better understanding of effective strategies required in the classroom to foster comprehension skills among students.
---
Workshop On Scratch Programming and Research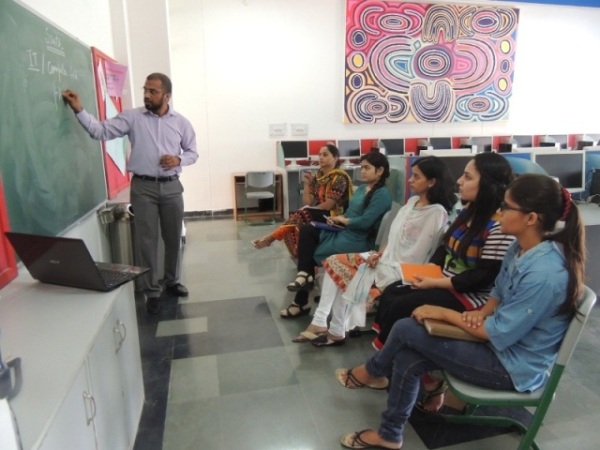 What is Scratch
Scratch is a free desktop and online multimedia authoring tool that can be used by students, scholars, teachers, and parents to create games with ease. It is a stepping stone to the more advanced world of computer programming and can be used for a host of entertainment and constructive educational activities. An excellent medium for Math and Science projects, it allows for simulations and visualization of experiments, recording lectures with animated presentations, animated stories, and interactive art and music.
---
Workshop on Comprehension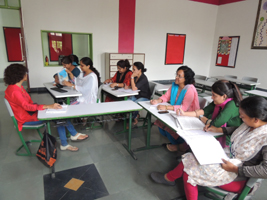 Growing professionally is a part and parcel of working at Billabong High International School. A workshop on ' upgrading comprehension skills of students' was organized on Saturday, 13th June 2015 for Middle School English and Social Science teachers.
Ms. Swati Panvalkar, the Head of the English department, enlightened the team, firstly, by emphasizing the importance of reading comprehension in a student's life and its impact on the learning of other subjects as well. She spoke of how inculcating the habit of reading in the formative years improves understanding of concepts and learning in general.
The workshop focussed on common errors by students while attempting comprehension exercises and steps on improving functional language skills of students.
---
Wow at work - Management development program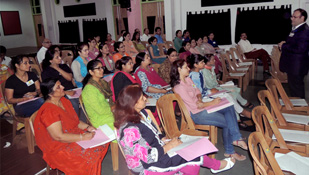 The School believes in the continual professional development of teachers and steadily engages in upgrading their skills to act as effective facilitators to the 21st century student.
A day long management development program was conducted by Delhi based Confluence – Training and Development , an organization committed to upgrading skills of employees in diverse sectors such as IT, FMCG, Service sectors such as Airlines, Banking and Insurance and the field of Education.

The training session that focused on engagement, attitude and motivation at the work place was conducted by Mr. Surya Narain Bahadur, a corporate veteran with more than twenty five years of corporate experience.
The fun-filled, interactive session succeeded in providing strategies on being a more effective worker and communicator and overcoming teaching-learning challenges.
---